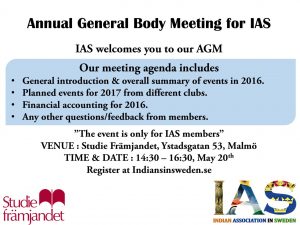 Dear IAS member,
Thanks for your association with the Indian Association in Sweden (IAS) family and we value your contribution/participation towards the IAS activities.
We would like to welcome you to our annual general body meeting (AGM) between 14:30 – 16:30 on 20th May in Studieframjandet, Ystadsgatan 53, Malmö.
Proposed agenda
• Elect convenor for the meeting (a person outside the board).
• General introduction to IAS.
• Overall summary of events and meetings organised by IAS in 2016.
• Planned events for 2017 from different clubs of IAS.
• Financial accounting for 2016 and members can ask questions.
• Any other questions/feedback from members.
Kindly let us know in case of any questions/clarifications. Kindly reply to this email if you plan to attend the AGM. This will facilitate us in the practical matters (booking a hall with right size, arranging for snacks and coffee). We are looking forward to meeting you in the AGM.
General secretary, IAS